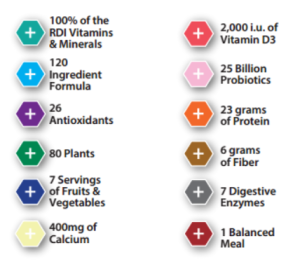 Maximum Vibrance® delivers a meal's worth of high protein, almost no fat, plus a Paleolithic dose of micronutrients. What is meant by "a Paleolithic dose of micronutrients?" The term means that Maximum Vibrance® will feed the human body a broad and rich range of vitamins, minerals, polyphenols, and nutritional co-factors at levels that closely match the high requirements of the ancient, Paleolithic biochemistry that resides in each of us.
We are programmed to need more micronutrients than our modern food can supply. When we don't get enough of them – and there are thousands – biological systems falter or may break down entirely. Immunity, growth, maturation, healing, cardiac health, skeletal health, and a broad number of body systems may begin to function poorly. Maximum Vibrance® should prevent those events that too often draw down the vitality of too many persons.
Maximum Vibrance® comes closer than any other dietary supplement to being the singular product one may take in place of all other supplements. The only group of essential nutrients absent from the formula is the omega-3 fatty acids. Unfortunately, technology has not yet developed a stable form of powdered omega-3s. Rest assured, when it becomes available it will find its way into our product.
Maximum Vibrance® marries fully balanced vegetable protein to certified organic vitamins and minerals of plant origin, and then blends them into a mass of specially selected and certified organic plant foods that provide a complete array of nutrients necessary for optimal health.
Astaxanthin, lycopene, beta-carotene and a host of botanical extracts push the protective antioxidant power of Maximum Vibrance® to, well, maximum levels. The organic cereal grass juice powders, spirulina, ample chlorella, vegetables and fruits deliver broad nutrition and effective detoxification. Our classically powerful blend of 25 billion probiotics per serving from 12 strains of beneficial bacteria, are here too, just as they are in Green Vibrance®.
Use two scoops (enclosed in the jar) for a complete meal replacement or one scoop for a nutritious snack. Either way, the pleasant taste of Maximum Vibrance® permits its use in any beverage from water through juices to almond milk, or any smoothie.
Maximum Vibrance® contains 120 ingredients which include 80 plants, 26 antioxidants, 6g of fiber, 7 servings of fruits and vegetables, 7 vegetable based digestive enzymes, 23g of protein and so much more!
Maximum Vibrance® is the most comprehensive nutritional multi-supplement you will find anywhere in the world. It's more than a super food, it's a Futurefood!